Frequently Asked Questions on Biobased Content Testing
Why is ASTM D6866 the preferred method for biobased content measurements in the US?
ASTM D6866 is a standard developed specifically for biobased content determination as requested by the U.S. Department of Agriculture for its BioPreferred Program. The method uses radiocarbon dating techniques that can measure the exact percentage of a material that came from renewable sources.
---
Can all radiocarbon dating labs perform biobased testing?
Not all radiocarbon dating labs have the manpower for a quick turnaround or the technical expertise to perform ASTM D6866 testing. Commercial radiocarbon dating labs that are ISO/IEC 17025:2005-accredited are recommended because the U.S. Department of Agriculture and other organizations strongly encourage the use of laboratories that have such accreditation.
---
What is the difference between biobased carbon content reported as a fraction of total organic carbon (TOC) vs. total carbon (TC)?
ASTM D6866 only allows the use of the term "biobased" for a result representing renewable carbon to total organic carbon (TOC). For materials containing inorganic carbon (such as CaCO3) the carbonate is removed from the sample prior to analysis so that the result represents the percentage of biobased carbon as a fraction of TOC.
Other analytical standard methods such as EN 16640 and ISO 16620-2 allow the term "biobased" to be reported as a fraction of total carbon (TC). This means that if the sample contains inorganic carbon such as carbonate, it is included in the measurement. Alternatively, ASTM D6866 requires that results including inorganic carbon use the term "biogenic" so results provided by ASTM D6866 of renewable carbon to total carbon (TC) are reported as "% biogenic carbon".
The choice of report format should be based on factors such as the terminology desired, geographical location of the target market and the biobased certification or scheme chosen by the manufacturer for participation.
---
What is the difference between biobased carbon content and biomass by weight?
Depending on the standard chosen, a product's biobased carbon content tells you the ratio of biobased carbon (organic carbon or carbon from renewable sources) relative to total organic carbon (TOC) or total carbon (TC) present in the product. This value is absolute and doesn't depend on the amount of material being analyzed. Biomass by weight, on the other hand, tells you the fraction of the product that is biomass. This percentage depends on the amount of material submitted for analysis and has no bearing on product's biobased content.
Beta Analytic only provides biobased carbon content results and not biomass by weight.
---
Are there sample size requirements?
We recommend 1-10 cc for non-combustible fluids, 100-200 microliters for combustible fluids, 20-50 cc for fluids with 90% water content, and 0.5-25 grams for solid samples.
---
Is there a required container for samples sent to your lab?
We do not require specific containers for samples. Solids can be placed in any container; powders should be sent in properly sealed containers especially when multiple samples are sent. Liquids should also be submitted in containers that can be sealed tightly. You can use vials with snap caps shown below or those found at this site.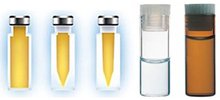 ---
Do you have an office in Europe where we can send our samples?
Yes. Please send your samples to our Dublin office.
Beta Analytic Ltd.
The Greenway
Block C, Ardilaun House, St Stephens Green
Dublin
D02 TD28
Ireland
Samples need to be shipped to the US if they are designated as hazardous by the International Air Transport Association (IATA). It is very important to inform us before shipping hazardous samples so we can give you the correct instructions and shipping address.
---
Our samples are from our Asia production, should we send our samples to your facility in China or your lab in the U.S.?
Samples from Asian countries other than Japan or China should be sent to our U.S. headquarters.
Beta Analytic Inc.
4985 SW 74 Court
Miami, Florida 33155
USA
Samples from China should be sent to this address:
Beta Analytic Inc.
3/F North Station Business Center
No.592 Hengtian Road, Jimei District,
Xiamen 361021
China
Samples from Japan should be sent to our agent:
Chikyu Kagaku Kenkyusho Corp.
1-608 Ueda-Honmachi
Tenpaku-ku
Nagoya 468-0007
Japan