Back to News Home Page
Beta Showcases Biobased Content Testing at 2012 Biopolymer Congress
ISO/IEC 17025:2017-accredited Beta Analytic is exhibiting at the Biopolymer World Congress currently underway at the NH Laguna Palace Hotel in Venice Mestre, Italy. All questions about biobased content measurements can be directed to Alex Shroff, deputy manager for European operations, who is taking charge of the Beta Analytic booth. The two-day congress ends on April 24, 2012.
"The Biopolymer World Congress is a great opportunity to meet many representatives from the top companies in the biopolymer and biobased chemical industries. It will be interesting to know if there are changes to the policies in Europe that will make biobased content testing a requirement for verifying biobased claims," Mr. Shroff says.
The congress features plenary presentations, KnowledgeExchangeTM discussion sessions, poster sessions, and workshops. The event aims to provide sessions that address industry challenges, new developments, and future plans from the perspective of everyone in value chain. It is organized by the Biopolymer World Organisation.
Alex Shroff at the Beta Analytic Booth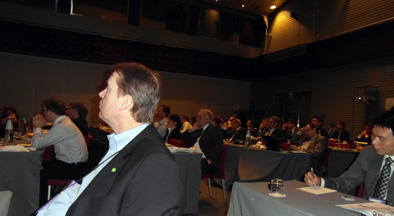 Biopolymer World Congress Participants
Beta Analytic Biobased Content Testing
ISO/IEC 17025:2017-accredited Beta Analytic supports the biobased industry by providing fast, high-quality biobased content analysis. The lab reports results in three to five days. Beta Analytic measures the biobased content of products through ASTM D6866 or CEN/TS 16137. Beta Analytic is based in Miami, Florida, and has sample forwarding offices in London, UK; São Paulo, Brazil; Xiamen, China; and Nagoya, Japan.
Beta Analytic's Other 2012 Events:
6th Polyurethane Technology and Information Exchange Seminar
Green Polymer Chemistry 2012
International Conference on Bio-based Polymers and Composites
Bioplastics Compounding and Processing 2012
---
This entry was posted on Tuesday, April 24th, 2012 and is filed under Beta Analytic Updates, Biobased Products .