Back to News Home Page
USDA Proposes to Add 9 More Product Categories to BioPreferred Program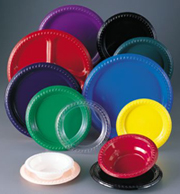 The U.S. Department of Agriculture is proposing to add another nine product categories that can be afforded federal procurement preference under its BioPreferred Program. The nine items are disposable tableware, expanded polystyrene foam recycling products, heat transfer fluids, ink removers and cleaners, mulch and compost materials, multipurpose lubricants, office paper, topical pain relief products, and turbine drip oils.
This is the sixth round of item designation for the BioPreferred Program. Round 5 has added 9 item designations and more than 1,000 biobased products to the USDA BioPreferred Catalogue effective October 2010. The USDA will accept public comments on Round 6 item designations until April 12, 2010.
Update: Round 6 Final Product Categories Added
Minimum Biobased Content Requirements
The USDA has also proposed a minimum biobased content for each of the Round 6 Item Designations:
(1) Disposable tableware (one-time-use drink ware and dishware excluding cutlery) must be at least 72% biobased.
(2) Expanded polystyrene foam recycling products – 90%
(3) Heat transfer fluids – 89%
(4) Ink removers and cleaners – 79%
(5) Mulch and compost materials – 95%
(6) Multipurpose lubricants – 88%
(7) Office paper – 95%
(8) Topical pain relief products – 91%
(9) Turbine drip oils – 87%
Source: Federal Register Volume 75, Number 27 (February 10, 2010)
---
Ready to send your biobased samples?
---
Biobased Content Measurement via ASTM D6866
Measurement of a product's biobased content is done through ASTM D6866, a standard developed at the request of the USDA specifically for the BioPreferred program. The USDA needed a standard method that could be used as a tool to verify the biobased content claims of manufacturers and vendors who wanted their products listed in the BioPreferred Catalogue.
ASTM D6866 measures the biobased content of a product by quantifying its carbon 14 content. Carbon 14 is a naturally occurring carbon isotope that is present in materials from renewable sources and absent in those that are fossil in nature. Thus, a product's carbon 14 content can be easily correlated to its biobased content or fraction that came from renewable sources like plants.
Beta Analytic – ASTM D6866 Service Provider
ISO/IEC 17025:2017-accredited Beta Analytic provides ASTM D6866 testing to the biobased industry. Based in Miami, Florida, the company also provides radiocarbon dating services. Beta Analytic is not affiliated with the USDA or the BioPreferred Program.
---
This entry was posted on Thursday, February 25th, 2010 and is filed under Biobased Products .