Back to News Home Page
Beta Analytic Talks Biobased Content Testing at Biowerkstoff Kongress
Beta Analytic Deputy Manager for European Operations Alexander Shroff presented an overview on measuring biobased content of bioplastics and composites via ASTM D6866 testing on the second day of the 4th Biowerkstoff Kongress (4th International Congress on Bio-based Plastics and Composites). Mr. Shroff was one of the speakers of the two-day event, which featured the latest material and product developments from leading biobased product suppliers and developers around the world.
Mr. Shroff was also present at Booth #17 in the exhibit hall to promote ASTM D6866 testing to more than 150 participants from various industries including the automotive industry, civil engineering, consumer goods, and the packaging industry. The 4th Biowerkstoff Kongress was held at the Maternushaus in Cologne, Germany, on March 15-16, 2011.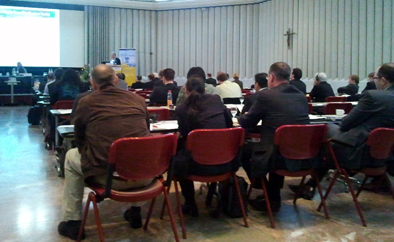 4th Biowerkstoff Kongress Presentation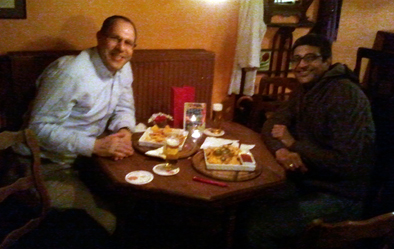 Alex Shroff (Right) with Mr. Hans van der Pol of Purac

ASTM D6866 Required in Biobased Product Certification Programs
There are several biobased product certification programs that recommend or require ASTM D6866 testing. Vincotte in Belgium requires biobased content measurements via ASTM D6866 for its OK Biobased program. This program uses a star system to disclose a product's biobased content – one star for biobased content between 20% and 40%, two stars if between 40% and 60%, three stars if between 60% and 80%, and four stars for biobased content of more than 80%.
Aside from Vincotte's OK Biobased Program, ASTM D6866 testing is also required in the U.S. Department of Agriculture's BioPreferred Voluntary Labeling Program, Japan BioPlastics Association's BiomassPla certification and labeling system, and EcoLogo Program's CCD-170 standard for instant hand antiseptic products.
Beta Analytic ASTM D6866 Lab
ISO/IEC 17025:2017-accredited Beta Analytic recommends sending a maximum of 10 cc for non-combustible fluids, 200 microliters for combustible fluids, 50 cc for fluids with 90% water content, or 25 grams of solids for ASTM D6866 biobased content analysis. The company has no required minimum number of samples. According to Beta Analytic, one measurement is fine if results are for R&D purposes only. For product certification, two analyses per material are recommended for better credibility and averaging. For product market protection or any purpose that may entail commercial or legal repercussions, three to four analyses per material are recommended.
Beta Analytic's ASTM D6866 lab is based in Miami, Florida, and has sample forwarding facilities in North Sydney, Australia; Sao Paulo, Brazil; Beijing, China; New Delhi, India; Nagoya, Japan; and London, UK.

---
This entry was posted on Thursday, March 17th, 2011 and is filed under Beta Analytic Updates, Biobased Products .