Back to News Home Page
Beta Analytic Presents at Pacific Rim Summit in Malaysia
ISO/IEC 17025:2017-accredited Beta Analytic Inc. is participating at the Pacific Rim Summit on Industrial Biotechnology & BioEnergy currently underway at the Kuala Lumpur Convention Centre in Kuala Lumpur, Malaysia. Ms. Pat Patodia, Beta Analytic's Research Associate, will discuss "Measuring the Biobased Content of Renewable Chemicals and Biofuels via ASTM D6866."
The 2011 Pacific Rim Summit highlights the latest issues in industrial biotechnology as well as advanced biofuels, renewable hydrocarbons, biopolymers and bioplastics, and green chemistry, among others. It has two technical tracks – Biomass and Biofuels, and Renewable Chemicals and Biobased Products. Ms. Pat is presenting under the latter.
"This summit is a great opportunity for Beta Analytic to introduce ASTM D6866 testing to biobased products and renewable chemical manufacturers from North America and Asia. Although there are few regulations or initiatives in Asia that require standardized testing at this time, I'm sure manufacturers see the need and marketing advantage of knowing the exact biobased content of their products," Ms. Patodia says.
The three-day event started on November 21, 2011, contemporaneous with BioMalaysia 2011 Conference & Exhibition co-organized by Malaysia's Ministry of Science, Technology, and Innovation. The Pacific Rim Summit was co-organized by the Biotechnology Industry Organization (BIO), which represents more than 1,100 biotechnology companies, academic institutions, state biotechnology centers and related organizations across the United States and in more than 30 other countries. BIO members are involved in the research and development of innovative healthcare, agricultural, industrial and environmental biotechnology products.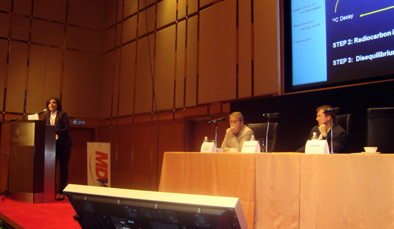 Pat Patodia Discussing ASTM D6866 Testing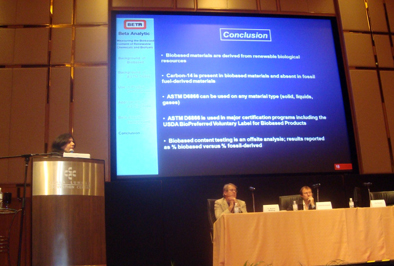 Pat Patodia at Pacific Rim Summit 2011
ASTM D6866 Biobased Products and Renewable Chemicals Testing
The ASTM D6866 is a standard method based on radiocarbon analysis. Through this method, the exact percentage of a material that comes from renewable sources is accurately determined. Products made from renewable materials have known levels of radiocarbon or Carbon-14 whereas those from fossil sources have no radiocarbon. The product's radiocarbon content is correlated to its biobased content.
Products made wholly from biomass are 100% biobased. Products made from 100% fossil feedstock are 0% biobased. Bioplastics, on the other hand, will have biobased content greater than 0% and lesser than 100% depending on how much of it comes from renewable materials.
ASTM D6866 was developed by ASTM International at the request of the US Department of Agriculture for its BioPreferred Program. Nowadays, the standard is also used in various ecolabeling programs including Japan BioPlastics Association's BiomassPla certification and labeling system, Vinçotte's OK Biobased Program, and EcoLogo's standard for hand sanitizers CCD-170, to name a few. DIN CERTCO also uses the ASTM D6866 method for its biobased cerfitication scheme DIN-Geprüft Biobased.
ASTM D6866 results provide a measure of a product's biobased content but has no implication on the product's biodegradability. Some biobased products are not biodegradable.
Beta Analytic also joined other conferences in 2011:
2nd Annual Next Generation Bio-Based Chemicals Summit
4th International Congress on Bio-based Plastics and Composites
BioPlastek 2011 Forum
---
This entry was posted on Tuesday, November 22nd, 2011 and is filed under Beta Analytic Updates, Biobased Products .