Back to News Home Page
USDA Adds Nine Product Categories to BioPreferred Program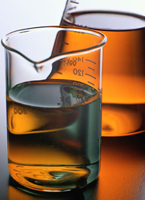 The U.S. Department of Agriculture's BioPreferred Program now has 42 item designations and approximately 5,600 biobased products. The first four rounds of item designation established 33 product categories and added 4,500 products in the USDA BioPreferred Catalog. Round 5 has added 9 item designations and more than 1,000 biobased products. Beginning October 27, 2010, federal agencies and their contractors as well as the military must procure products that belong to these 9 designations from the USDA's BioPreferred Catalog.
Manufacturers can apply to have their biobased products added to the BioPreferred Catalog as long as the product complies with the required minimum biobased content. ASTM D6866 product certification is recommended during application.
Minimum Biobased Content Requirements
Chain and cable lubricants must be at least 77% biobased.
Corrosion preventatives – 53%
Food cleaners – 53%
Forming lubricants – 68%
Gear lubricants – 58%
General purpose household cleaners – 39%
Industrial cleaners – 41%
Multipurpose cleaners – 56%
Parts wash solutions – 65%.
Final rule relating to the newly designated biobased items is effective November 27, 2009. Details of the final rule are found here (Federal Register Number E9-25756, 7 CFR 2902).
---
Ready to send your biobased samples?
---
BioPreferred Program Rounds 6 and 7
The USDA has already listed the potential items for designation in the next rounds. The 10 potential items to be designated in Round 6 are disposable tableware, expanded polystyrene foam recycling products, gasoline fuel additives, heat transfer fluids, ink removers and cleaners, mulch and compost materials, multipurpose lubricants, office paper, topical pain relief products, and turbine drip oils.
The 15 potential items to be designated in Round 7 are animal repellents; bath products; bioremediation materials; compost activators and accelerators; concrete and asphalt cleaners; cuts, burns, and abrasions ointments; dishwashing products; erosion control materials; floor cleaners and protectors; hair care products – shampoo and conditioners; interior paintings and coatings; lithographic offset inks; oven and grill cleaners; slideway lubricants; and thermal shipping containers – durable and non-durable.
Round 6 and 7 item lists are subject to change.
Update: Round 8 Product Categories
---
This entry was posted on Monday, November 16th, 2009 and is filed under Biobased Products, Biobased Regulations .