European Bioplastics' Environmental Affairs Manager, Marko Schnarr, highlighted the progress of bioplastics since 1993 during his presentation at the 2010 International Congress on Bio-based Plastics and Composites held in Hannover, Germany, on April 20-21. The main focus of Mr. Schnarr's talk was on biobased product certification.
ASTM D6866 Biobased Content Testing
Mr. Schnarr pointed out that (a) ASTM D6866 or the Carbon-14 method is a suitable method for determining biobased carbon in biopolymers and other materials, and (b) the percentage of renewably-sourced components in a material is not necessarily equal to its biobased content. This is because ASTM D6866 only considers the material's total organic carbon and not total carbon.
Coca-Cola's "Plant Bottle" is made from a PET resin that is 30% bio monoethylene glycol and 70% terephthalic acid. Based on the material's carbon-14 analysis results presented by Mr. Schnarr, the Plant Bottle has 20% biobased content. Coca-Cola, however, is still correct to claim that their resin or bottles are 30% plant-based. The terms plant-based and biobased are not the same. Hence, the need for standardization is important.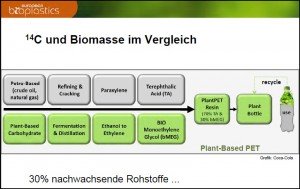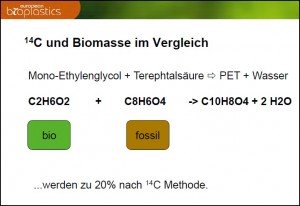 Download this European Bioplastics Presentation

This European Bioplastics Document is presented with the expressed written consent of Mr. Schnarr.