AB32: One of California's Major Initiatives to Reduce GHG Emissions
AB32 aims to significantly reduce California's greenhouse gas emission levels by 2020
The regulation allows fuel sampling as an alternative to emissions sampling for ASTM D6866 analysis
Beta Analytic is committed to help companies fulfill the requirements of AB32 by providing accurate and reliable ASTM D6866 testing
AB32 Recommends ASTM D6866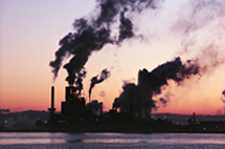 AB32 recommends ASTM D6866 to measure the carbon-neutral CO2 emissions from the combustion of biomass, municipal solid waste, or waste-derived fuels with biomass; see page 93 of the regulation.
The ASTM D6866 recommendation is relevant to cement plants, operators of electricity-generating facilities, electricity retail providers, marketers who import or export electric power across California's borders, and operators of general stationary combustion facilities.
California's Air Resources Board has also published an instructional guidance for the following industries:
Cement Industry – ASTM D6866 [listed as Section 95125(h)] is the method of choice for cement plants that use biomass solids and waste-derived fuels or co-fire fuels; see page 6 of the document.
Electricity Sector – ASTM D6866 [listed as Section 95125(h)] is the method of choice for electricity-generating facilities that combust biomass fuels and municipal solid wastes; see page 20 of the document.
General Stationary Combustion Facilities – ASTM D6866 [listed as Section 95125(h)] is the method of choice when measuring the biogenic percentage of CO2 emissions at such facilities; see pages 7 and 8 of the document.
Fuel Sampling is OK in Lieu of Emissions Sampling
In October 2009, the ARB published an AB32 FAQ document. The ARB clarified that fuel sampling can be done as an alternative to emissions sampling.
Page 19: "..the regulation allows for calculation of biomass emissions from fuel sampling as an alternative to emissions sampling, to the extent testing of a fuel type is supported by ASTM D6866. Fuel samples collected for analysis should be representative and unbiased, consistent with other requirements of the regulation. The other collection and calculation provisions in section 95125(h)(2) do apply to fuel samples, including the requirement that the ASTM analysis be conducted at least every 3 months."
About AB32
California's Global Warming Solutions Act of 2006, better known as Assembly Bill 32 or AB32 , outlines the state's initiative to reduce climate change or greenhouse gas emissions. AB32, which was signed into law in 2006, aims to cut GHG emissions to 1990 levels by 2020 and below 1990 levels by 2050.
California boasts of AB32 as the "first-in-the-world comprehensive program of regulatory and market mechanisms to achieve quantifiable and cost-effective reductions of GHG emissions." AB32 requires mandatory reporting and verification of greenhouse gas emissions of cement plants, the electricity sector, co-generation plants, petroleum refineries, hydrogen plants, and general stationary combustion facilities operating in California.
The Air Resources Board, a department of the California Environmental Protection Agency, is already implementing the AB32 mandatory GHG reporting regulation. The regulation was approved by the ARB in December 2007 and has become effective starting December 2, 2008.
Other Regulations Requiring ASTM D6866
ASTM D6866 Services Provided by Beta Analytic
ISO/IEC 17025:2005-accredited radiocarbon dating lab Beta Analytic not only caters to the archaeology industry but also provides ASTM D6866 testing to various industries with high carbon dioxide emission levels. The lab is located in Miami, Florida. Beta Analytic also accepts sample submissions in its London (UK), Nagoya (Japan), and Beijing (China) facilities.