Back to News Home Page
USDA BioPreferred Labeling Program Requires Biobased Content Testing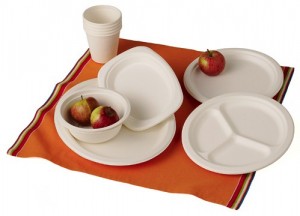 The U.S. Department of Agriculture has finalized the guidelines for its BioPreferred Voluntary Labeling Program, under which eligible manufacturers and distributors of domestic and imported biobased products can affix a USDA Certified Biobased Product label to the approved goods and related promotional materials. The label discloses the biobased content of the product, the packaging material, or both product and packaging as measured via ASTM D6866 testing. The final rule was first published in the Federal Register on January 20, 2011, and is effective February 22, 2011.
The Voluntary Labeling Program only applies to commercial or industrial products (other than food or feed), intermediates, and feedstock that are partially or wholly composed of biological ingredients including renewable plant, animal, marine, or forestry materials. Motor vehicle fuels, heating oil, electricity produced from biomass, and mature market products are excluded. Mature market products, according the USDA, are goods that had a significant market share since 1972.
The USDA launched this voluntary labeling program in an effort to increase commercial demand for biobased products. "Today's consumers are increasingly interested in making educated purchasing choices for their families. This label will make those decisions easier by identifying products as biobased. These products have enormous potential to create green jobs in rural communities, add value to agricultural commodities, decrease environmental impacts, and reduce our dependence on imported oil," USDA Deputy Secretary of Agriculture Kathleen Merrigan said.
The USDA BioPreferred Program consists of two separate schemes – a preferred procurement program that requires federal agencies and their contractors to buy products with high biobased content, and a voluntary labeling program for manufacturers and distributors who want their biobased products certified by the USDA.
Eligible Biobased Products
To receive USDA product certification, the biobased content of the product must meet the minimum biobased content requirements of its corresponding product category under the federal procurement preference program. Those that do not belong to any of the existing product categories under the federal procurement program must be 25 percent biobased unless the applicant applies for and receives an alternative minimum biobased content allowance.
Products imported for sale in the U.S. must adhere to the same guidelines as U.S.-sourced biobased products to be certified. Distributors and manufacturers of biobased products certified in other countries still need to apply for USDA product certification.
The USDA certification remains valid as long as the product is manufactured and marketed in accordance with the approved application and it continues to meet the minimum biobased content requirement. If a product is reformulated, its biobased content must meet the minimum biobased content required for the certification to remain valid. In the event that the USDA revises the minimum biobased content requirement for a product category, the approved product must meet the new minimum requirement to keep the certification valid.
---
Ready to send your biobased products?
---
ASTM D6866 Testing Required
Applicants under the Voluntary Labeling Program are required to provide supporting documentation of their biobased claims. ASTM D6866 test results from an ISO 9001 or ISO/IEC 17025:2017 accredited lab are required. According to the USDA, ASTM D6866 biobased testing must be performed by ISO 9001 conformant testing facilities to ensure that the products using the label meet the high standards of the program.
Companies with goods already part of the BioPreferred Catalog for federal procurement need to have their products re-tested for biobased content via ASTM D6866 if they want to apply for this voluntary label. Products tested between February 20, 2010, and February 20, 2011, by an approved third-party laboratory are not required to be re-tested. The applicant, however, should notify the USDA in the "Legacy Tests" section of the online application and submit an additional form provided by the USDA via email. The USDA will obtain test results directly from the lab and continue evaluating the application.
The USDA will conduct occasional random ASTM D6866 testing of certified products to ensure compliance of the minimum biobased content reported in the approved application.
USDA Certified Biobased Label
The USDA label consists of an artwork, the biobased content percentage, and one of these text variations: USDA Certified Biobased Product, USDA Certified Biobased Product: Package, or USDA Certified Biobased Product and Package. Labels for biobased products that have been designated for preferred federal procurement will include the letters "FP" as part of the label's artwork.
Sample images of the USDA label are found in the USDA BioPreferred website.
Source: BioPreferred Voluntary Labeling Program for Biobased Products Final Rule
Beta Analytic ASTM D6866 Lab
ISO/IEC 17025:2017-accredited Beta Analytic serves the biobased industry by providing high-quality ASTM D6866 testing with turnaround times between 7 business days or less. A priority service is available for results required in 4 business days or less. The company recommends two analyses per material for better credibility and averaging when results are to be used for certification. For research and development purposes, one measurement is sufficient.
Beta Analytic is not affiliated with the USDA BioPreferred Program.
You might also be interested in these topics:
How to Apply for BioPreferred Certification from the USDA
USDA to Hold Webinar on Biobased Products in Operations and Cleaning
ASTM Provides Details on USDA BioPreferred Label Application Process

---
This entry was posted on Friday, January 21st, 2011 and is filed under Biobased Products, USDA Biopreferred Program .