Back to News Home Page
BioPreferred Program – Choosing a Qualified Lab for Biobased Content Testing
Not all laboratories providing ASTM D6866 biobased content testing are qualified to provide such service to applicants of the U.S. Department of Agriculture's BioPreferred Program. Biobased content testing labs must first be accepted by Safety Equipment Institute (SEI), the manager of the BioPreferred Program's Product Certification and Labelling initiative. SEI requires that labs must be ISO 17025-accredited, have no direct exposure to artificial carbon-14 and can demonstrate capability to perform ASTM D6866 testing.
A subsidiary of ASTM International, SEI has managed the BioPreferred Voluntary Labelling Program since 2016.
ISO 17025 accreditation
SEI requires labs to be accredited to the ISO/IEC 17025 standard, which specifies the general requirements for laboratories to demonstrate competence, impartiality and consistency in carrying out tests, calibrations and sampling. According to the International Organization for Standardization (ISO), the ISO 17025 standard allows laboratories to implement a sound quality system and demonstrate that they are technically competent and able to produce valid and reliable results.
Results of labs that are ISO 17025-accredited are accepted by many laboratories worldwide. Test reports and certificates of ISO 17025-accredited labs can be accepted from one country to another without the need for further testing, thereby improving international trade.
No artificial carbon-14 exposure
For the BioPreferred Program, the SEI will only accept laboratories if they have no direct exposure to artificial carbon-14. Under the standard's scope and limitations, it is explicitly stated that ASTM D6866 is applicable to laboratories working without exposure to artificial carbon-14.
According to ASTM International, artificial carbon-14 can become undetectably ubiquitous on lab surfaces and may randomly contaminate an unknown sample producing inaccurately high biobased content results.

Demonstrate capability to perform ASTM D6866 testing
SEI requires labs to disclose several details to assess their competence in ASTM D6866 testing, including:
the names of employees responsible for performing ASTM D6866 testing and their experience and capabilities to perform such test;
information on how it is ensured and documented that the technical competence of lab personnel running ASTM D6866 testing is kept up to date by training and education; and
documented procedures for test personnel performing ASTM D6866.
USDA BioPreferred Program
The BioPreferred Program is an initiative of the US government to increase consumption of biobased products and create jobs. The program has two initiatives – a procurement program for federal agencies and a voluntary labelling program for consumer marketing purposes. As of June 2018, there are at least 15,000 biobased products listed in the BioPreferred Catalog under 97 product categories.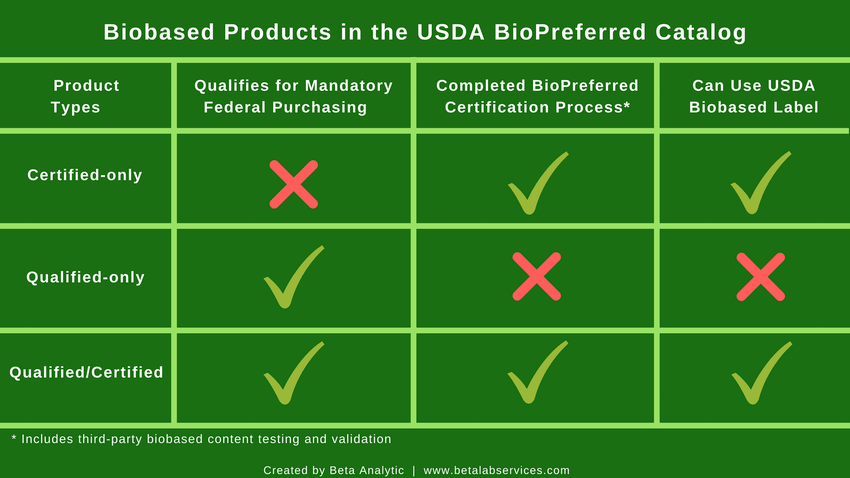 Certified-only products – they do not fit into one of the 97 categories qualified for mandatory federal purchasing but have gone through the BioPreferred Program's certification process; Qualified-only – biobased products that fall under one of the product categories but have not gone through the program's certification process; Qualified/Certified – biobased products that belong in one of the product categories AND have gone through the program's certification process.
---
Beta Analytic: Fast, high-quality ASTM D6866 testing
Based in Miami, Florida, Beta Analytic has performed ASTM D6866 testing since 2004. The lab joined the American Society for Testing Materials (ASTM) Subcommittee D20.96 in 2004 to help author the ASTM D6866 standard.
An ISO 17025-accredited lab since 2008, tracer-free Beta Analytic does not accept biomedical samples or any materials with artificial carbon-14, carbon-13, carbon-12 or any other isotopes to avoid the risk of cross-contamination.
For inquiries on rates and lab turnaround time, please call 305-662-7760 or use this contact form.
Beta Analytic is not affiliated with ASTM, SEI or the USDA BioPreferred Program. The lab welcomes inquiries on how to submit samples for testing as part of the Biopreferred Voluntary Labeling Program.
References:
ASTM D6866-18 – Standard Test Methods for Determining the Biobased Content of Solid, Liquid, and Gaseous Samples Using Radiocarbon Analysis
SEI Certification Program – USDA Voluntary Biobased Product Labeling
---
This entry was posted on Friday, June 29th, 2018 and is filed under Biobased Products, Biobased Regulations, USDA Biopreferred Program .